"This feels really huge. I've felt it coming for a while now," says Edvin Anger after helping his team to first place in the mixed relay in front of a huge home crowd in Falun.
Sundays World Cup victory on home snow in Falun was particularly tasty after Saturday's sprint race. There, he was eliminated by fractions of a second in the semifinal after winning the qualifier by buckets.
"It was a brutal, and I really had to push my lungs. But it was such a sweet revenge after missing Saturday's final by a few thousands of a second," Anger says.
Only in his first season at the elite international level, Sunday's victory was Anger's third World Cup podium this winter. With four races left this season, three of them being sprints, the rookie is on a roll.
Additionally, Harald Østberg Amundsen (NOR) bagged another podium with third place in the 10km classic race in Falun on Friday, was ninth in the sprint on Saturday, and helped his team to a solid fourth place in the mixed relay on Sunday.
Story continues below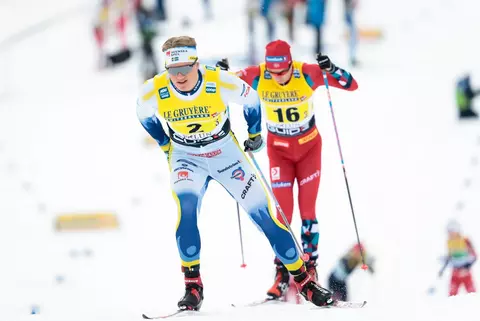 Madshus biathletes wrapped up the IBU biathlon World Cup for the season in Holmenkollen (NOR) this weekend with a handful of podiums and solid performances.
Sturla Holm Lægreid (NOR) was second in the pursuit on Saturday, as well as fifth in both the sprint on Thursday and the mass start on Sunday.
Lægreid was also second in the overall World Cup this season, for the third consecutive year.
Additionally, Benedikt Doll took home a third place in the sprint on Thursday, and fourth in the pursuit on Saturday.
Doll finished fourth overall, a significant step up for the 32-year-old veteran who was eighth overall last season. Also among the top-10 overall this season, Roman Rees (GER) was ninth, up from 16thlast season.