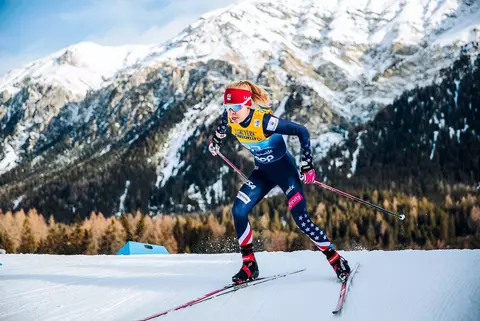 Both Ben Ogden and Sophia Laukli raced their first full World Cup seasons last winter, and certainly made their mark on the international circuit.
Ben Ogden, for starters, posted two impressive finishes at the 2022 Olympics in Beijing. The 22-year-old was 12th in the sprint and ninth in the team sprint at his very first Olympics. Ogden also posted a 12 place in the World Cup sprint in Davos last winter, and is the reigning US Champion of distance racing after winning both the 10-kilometer classic and the 20-kilometer skate at the national championships in March.
Like Ogden, Sophia Laukli also cut her teeth at the very top level in an impressive way last winter: At the 2022 Tour de Ski, her very first stage World Cup, Laukli showed no respect for the established elite. She went straight for a top-5 finish on the final stage: the brutal Alpe Cermis Hill Climb in Val di Fiemme (ITA).
Then, at the 2022 Olympics, she was 15th in the 30-kilometer skate race. Sophia her first FIS World Cup race in Lahti (FIN) in January 2021. In 2021, she competed at her first FIS World Championships, taking home two top-25 finishes.
However, while somewhat fresh faces at the World Cup, both Laukli and Ogden have seen the top of the podium both nationally and internationally before.
Before moving up to the senior level, Ogden helped secure three Junior World Championships medals including two gold medals, at three consecutive World Championships (2018, 2019 and 2020).
Ogden skied his first FIS World Cup race in 2019, when he was still a junior. In 2021, he competed at his first FIS World Championships, finishing 17 in the sprint race in Oberstdorf (GER).
In the case of Laukli, she also helped Team USA to a silver medal in the relay at the 2020 FIS Junior World Championships.
Leading the way for both of them and a whole generation of rising American talent: Hailey Swirbul. The Colorado native posted her first World Cup podium in Davos (SUI) in December 2020. Still only 24 years old, Swirbul is already a five-year veteran of the US Ski Team. Prior to her career at the senior level, Swirbul earned three medals at the FIS Junior World Championships.
What's more, Swirbul is also a member of the Women Ski Coaches Association, addressing the need for equal pay and opportunities for both male and female ski coaches.