Madshus rising stars were on fire for three days on end at the FIS cross-country season openers in Sweden and Norway.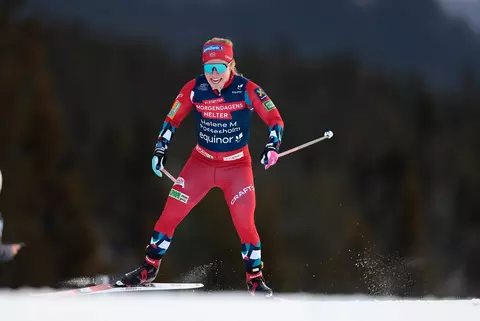 The future is bright: Madshus young racers posted three podiums and nearly a dozen top-10 finishes at the FIS cross-country season openers in Norway and Sweden. Let's recap the fun, starting at the beginning.
Friday, November 18:
What a day at the sprint races!
At the FIS season opener in Bruksvallarna in Sweden, turbo junior Alvar Myhlback cruised to the podium in his very first sprint at the FIS senior level.
"I can't really believe it. I didn't think sprints were all that fun," Myhlback said of his first individual podium finish at the FIS senior level.
The 16-year-old super talent is formally just entering his first season at the junior level. But at the Swedish senior national championships in March, Myhlback helps his team to second place and the silver medal in the team sprint. Throughout the summer, he has continued to impress at the senior level in various international competitions.
Additionally, Hedda Østberg Amundsen, Sondre Ramse and Sivert Wiig made the sprint finals at the FIS season opener in Beitostølen, Norway.
Saturday, November 19:
Another solid day at the office for Madshus racers: first-year senior Edvin Anger goes straight to the podium in the 10-kilometer classic race at the season opener in Sweden with Friday's podium kid 16-year-old Alvar Myhlback in 8th place.
Anger is now entering his first formal season at the senior level. In March, he became the first-ever junior racer to win a national championship title in the senior men's category. Subsequently, the 20-year-old Swede was awarded the prestigious Sixten Jernberg Award. Anger is the youngest skier in history to receive the Sixten Jernberg Award.
Across the border on Saturday, Vebjørn Turveit was 6th, while Henrik Dønnestad and Helene Fossesholm both finished 8th in the 10-kilometer classic races at the season opener in Norway.
Sunday, November 20:
Madshus rising stars keep shining at the season openers. 21-year-old Fossesholm snags second place in the 10-kilometer skate at Beitostølen, while Henrik Dønnestad was second in the men's race. Both missed the victory by just a few seconds.
In Sweden, Edvin Anger and Alvar Myhlback wrap up their season openers with 4th and 7th place, respectively.
Next up is the FIS World Cup season opener in Ruka (FIN) on November 25 to 27, featuring a three-race mini tour.