Days are longer, snow is often plentiful, the sun starts to warm you face and fill your body and mind with energy: Spring is the perfect time to go farther and longer, check out new trails and explore different areas.
This year, take your backcountry skiing experiences to the next level - with confidence and comfort. Whatever your adventure, Madshus will get your there. And back. How? Let's fill you in.
The award-winning Madshus Fjelltech and Panorama ski series are engineered to address the specific needs of backcountry skiers.
The Fjelltech backcountry models are designed with a slightly wider body than regular touring skis, partial steel edges and integrated skins, providing stability and ski control in varied terrain in and out of tracks. Pair your Fjelltech skin skis with the sturdy Endurace U that cover most needs.
Check out the new Fjelltech backcountry skin skis
Panorama is our full-blooded backcountry ski line. The three widest models come with Omnitrack waxless bases for easy travel in all conditions, while the two narrower models are transition skin-ready. IntelliGrip® Transition skin skis feature all the benefits of traditional skin skis, but with the flexibility of traditional bases.
Check out the full range of Panorama backcountry skis
Paired with the Glittertind backcountry boots that are rugged enough for extended out-of-track skiing in varied terrain, waterproof and warm enough to stay out all day, you've got the optimal adventure setup.
So, go make the most of your spring - what's your adventure?
One final tip: Remember to charge your mobile phone before you go and keep it warm and dry in order to maximize battery life – you'd want to take lots of photos to document your fun and share your adventures!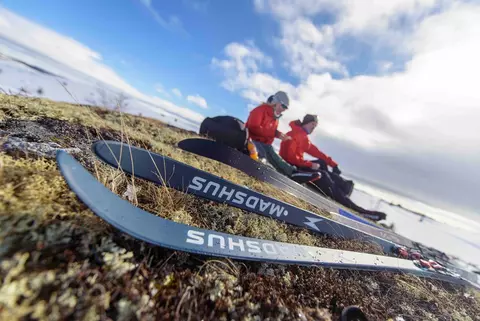 Photo by: Madshus/Vegard Breie