Dreaming of winter? Check out where its winter o'clock in the summer! There is snow to be had all over..
Dreaming of winter? Check out where its winter o'clock in the summer!
There is snow to be had all over the world – here are some options:
Austria
Ramsau am Dachstein – world famous glacier and the gold standard of summer skiing for the World Cup elite. The two trails at 2.900 meters altitude are accessible by the gondola. The trails are groomed daily for both classic and skating, and offers a total of 5 kilometers. Additionally, the 10-kilometer Hallstätter Loipe opens after the first snowfall in September.
Pitztaler Glacier – for the past couple of years, the Pitztaler Glacier at 2740 meters altitude offers from three to seven kilometers of groomed trails starting in September. Accessible by train.
Kitzsteinhorn – Offers three kilometers of groomed trails at 2900 meters altitude on the glacier. Opens in the fall, accessible by gondola from the village Kaprun.
Story continues below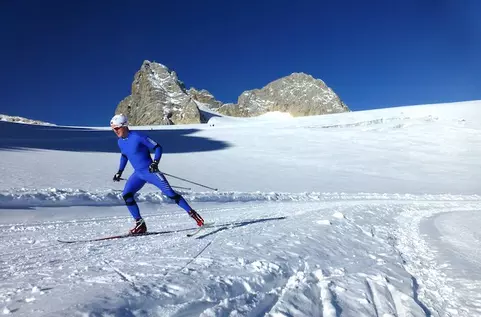 Germany
Skisporthalle Oberhof – ski tunnel that opened in 2009 offer -4 C every day throughout the 1.8-kilometer track, which is groomed for both classic and skating.
Switzerland
Les Diablerets – the only glacier skiing in Switzerland offers one of the most interesting glacier trails. The 3-kilometer loop is groomed daily from May until early October, and then again from the end of October.
Italy
Val Senales – Possibly the most efficient altitude training venue. Accommodations are located at 2000 meters altitude, ski trails are at 2800 meters and are accessible by gondola. Depending on snow conditions, Val Senales offers a 2-kilometer and a 5-kilometer loop when the season opens in early October.
Passo dello Stelvio – two glacier loops at 3000 meters, which are open all through the summer. An additional loop at 2750 meters opens after the first snowfall in the fall. All trails are groomed daily. Also, the main road to the pass and the numerous side roads are highly favored for roller skiing.
Norway
Sognefjellet – the only summer ski area in Norway offering groomed cross-country trails on natural snow. Favored by the Norwegian national team, the trails offer truly winter-like conditions. Generally open from May/June until August, longer in cold summers. Altitude is 1400 meters.
Story continues below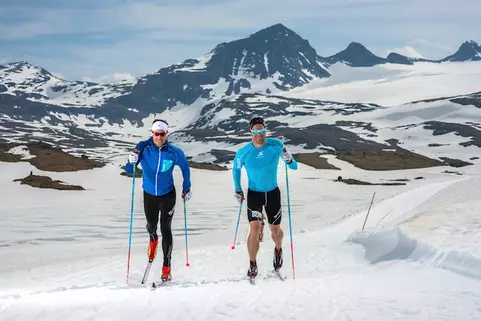 Sweden
Göteborgs Nya Arena – Sweden's second ski tunnel opened in 2015 as a part of a hotel and training facility in Sweden's second largest city. While the 1.2-kilometer ski tunnel trail offers super reliable and consistent snow conditions year-round, there are hardly any hills on the course. Fun fact: The training center also offers an underground soccer stadium.
Ski tunnel Torsby – Sweden's oldest ski tunnel offers a 1.3-kilometer trail groomed daily for both classic and skating, as well as a full service, Olympic standard biathlon range. In addition to indoor skiing year-round, Torsby is famous for its dryland facilities with an amazing roller ski arena, outdoor shooting range, bike routes and running trails.
Story continues below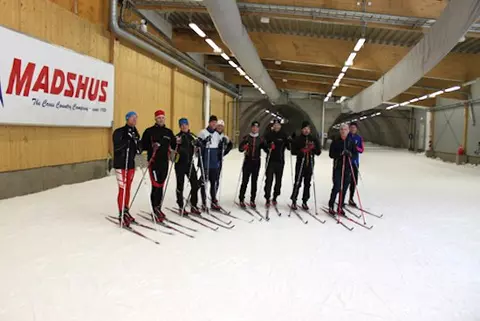 Finland
Vuokatti ski tunnel – the world's first indoor skiing facility of its kind is located in Northern Finland. The 1.2-kilometer course offers a fair amount of hills, and the tunnel is colder than for instance the Oberhof, Germany, ski tunnel.
Vesileppis – small ski tunnel with a short course underneath a spa hotel. From the front desk, take the elevator two levels down to enter the 900-meter trail.
Russia
Training center Toksovo – the biathlon and cross-country training facility situated close to St Petersburg now also offers a ski tunnel with a 750-meter long trail for a total of 1.5 kilometers out and back. Despite the short distance, the trail has a 18-percent incline hill with 22.5 meters elevation gain.
Australia
Falls Creek – the town in the province of Victoria is the best-known cross-country area in Australia. Situated at 1700 meters above sea level and offering more than 20 kilometers of daily groomed trails, Falls Creek is an amazing Nordic destination. Also, Falls Creek is the venue of the annual Kangaroo Hoppet, a part of the FIS Marathon circuit and the World Loppet. The event, which takes place in August, features a 42km and a 20km option, as well as junior and kids races.
New Zealand
Snow Farm – more than 60 kilometers of trails, although not all trails are groomed daily. The ski area is situated at 1350 meters, and trail-side accommodations are available.
Argentina
Ushuaia – At the very southern tip of South America, the Tierra del Fuego peninsula offers natural cross-country skiing on groomed trails in the summer months. Two Nordic ski races are organized each year in August: the 21-kilometer Marchablanca and the 42-kilometer Ushuaia Loppet. The latter is a part of the World Loppet schedule.