Starting off with cross-country, the FIS World Cup concluded with a 3-day race weekend in Falun (SWE). The World Cup final opened with sprint races on Friday, continued with distance races on Saturday and capped off the 2022 season with two mixed relays on Sunday. Both the mixed relay and the mixed team sprint are entirely new race formats on the FIS World Cup.
In the men's 15-kilometer skate race on Saturday, Harald Østberg Amundsen (NOR) won the sprint finish over the last spot on the podium in the last individual World Cup race of the season. Krista Pärmäkoski was fourth in the 10-kilomter skate race, missing the podium by less than two seconds.
On Sunday, Pärmäkoski finished off her World Cup season on the podium, helping Finland to second place in the mixed relay at the World Cup final in Falun.
A few hours later, Harald Østberg Amundsen was third in the mixed team sprint, earning his second World Cup podium in two days. Nicely delivered at the 2022 FIS season finale in Falun!
Also this weekend, rising stars Sophia Laukli, 21, and Ben Ogden, 22, take home medals from both the cross-country competitions at the US Collegiate National Championships (NCAA). Ogden won the men's 20-kilometer skate race on Saturday and the 10-kilometer classic race on Thursday. Laukli won the 15-kilometer skate race and took home the silver medal in the 5-kilometer classic race.
Both Ogden and Laukli returned from their first Olympic Winter Games with top-10 and top-15 finishes on their resumes, respectively.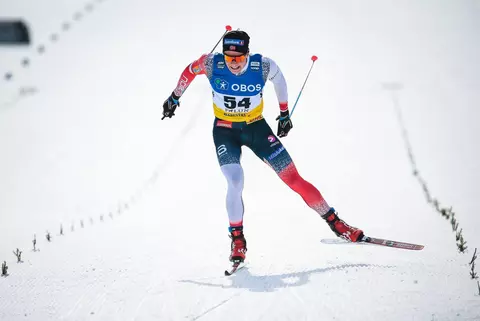 Madshus biathletes, who still have another round of races to go before they wrap up the 2022 season, helped themselves to a handsome collection of points at the IBU World Cup in Otepää (EST).
On Friday, Team Madshus open the weekend with a double podium and three racers among the top five: Sturla Holm Lægreid (NOR) was second and Benedikt Doll (GER) third in the sprint competition. Additionally, Roman Rees (GER) pulled into 5th place - all of them nailing every target at the range.
On Saturday, Sivert Bakken (NOR) follows up and hauls into third place on the mass start.
And on Sunday, Bakken sets Norway up for a solid victory in the mixed relay and puts himself on the podium for the third consecutive day. A couple of hours later, Lægreid secures Norway's second relay victory for the day in the single mixed relay.
The biathletes now move on to Holmenkollen (NOR) for their last World Cup races, which take place on March 18 to 20.