Meet Ukaleq Slettemark: Greenland's first – and so far – only biathlon World Champion. In her first World Cup race,..
Meet Ukaleq Slettemark: Greenland's first – and so far – only biathlon World Champion. In her first World Cup race, the 19-year-old junior was among the top 30 in shooting speed at the range.
In 2019, Ukaleq Slettemark became Greenland's first biathlon World Champion ever, when she won the 10-kilometer individual competition at the IBU Junior World Championship in Osrblie, Slovakia.
On December 11, Slettemark raced her first IBU World Cup competition. While she wasn't expecting to make the podium in her first race, it was nevertheless an eye-opening experience for the talented junior.
"At first, I was pretty overwhelmed with how fast the ski and how well they shoot, and how little difference there is between first and last place at the World Cup level. And honestly, I was a little disappointed with my result," says Slettemark, who finished 96th in the 7.5-kilometer sprint in Hochfilzen, Austria.
"It wasn't my best race ever, but it wasn't my worst either, and still I finished near the bottom of the result list."
However, after analyzing the stats from the race and putting her performance in perspective, Slettemark found that her time at the range was among the top 30 on the World Cup.
"I didn't know I was that fast at the range. I've never paid attention to my shooting time, but it's encouraging to see that at least, I'm competitive in one area of the sport already."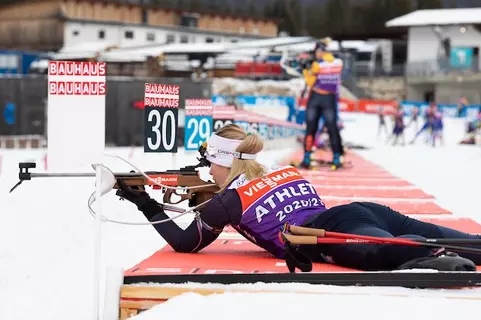 The following week, Slettemark moved up 13 places in the same World Cup event on December 18, which also took place in Hochfilzen.
"It's cool to know first-hand exactly how tough the competition is at that level, and where I'm at compared to the best in the world," she says.
After all, the 19-year-old is competing with racers who are 10 years her senior or more.
"It takes a lot of time and effort and thousands of hours to get to that level, so I have to be patient," says Slettemark.
Related coverage: Young, hungry and #SeriouslyFast
Based on her first World Cup races, Slettemark has made herself a solid a to-do-list.
"I notice that the World Cup skiers are really efficient, but they beat me handedly on uphill terrain, so I have to work specifically on my V1 technique. And overall, I just need to get physically stronger and more fit."
Because Greenland has a very small biathlon community and no formal training facilities, Slettemark moved to Norway in 2017 in order to pursue her biathlon career. She attended the NTG ski academy in Geilo, where she graduated with a high school diploma last spring.
Since May 2020, Slettemark has been living in Lillehammer where she trains with the Norwegian U23 national biathlon team.
"Training with the U23-team has been great. The other girls on the team are a great match, and I'm really looking forward to racing and traveling with them."