So, let's dive into the nuts and bolts:
All Madshus skin skis feature our revolutionary integrated skin technology featuring a progressive skin profile that reduces friction without sacrificing glide. Combined with a ski construction engineered and optimized for the integrated skin technology, you get a ski that provides unmatched reliable grip without compromising glide.
Madshus has carefully balanced the material composition, the camber, and the ski length and placement for each model to deliver the perfect experience for a range of skiers. All are designed to meet the overall goal: Simply Skiing. Accordingly, Madshus skin ski models are divided into two categories: Race skin series and Active skin series.
For some, simply skiing means the ease of just grabbing their skis and knowing they'll have reliable grip no matter what the snow and temperature conditions are, whether it's a long weekend tour or a quick outing on neighborhood tracks.
For others, simply skiing means not having to sacrifice glide for perfect kick in all conditions, whether they're chasing a personal best in Vasaloppet or looking for a reliable, no-fuzz training ski that allows them to maximize the time on the snow for busy weeknight workouts.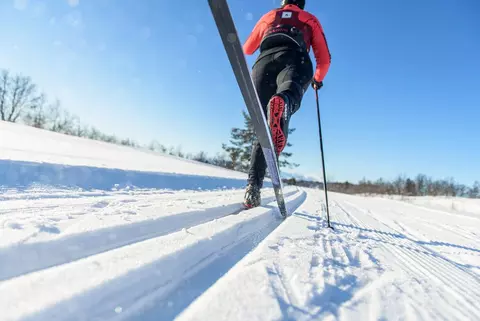 Race skin series
Raw speed comes at the cost of access to peak grip force. This is true for the skin skis in the Race skin series: These skis, which includes the World Cup-level Madshus Redline 3.0 Skin, Race Pro Skin and Race Speed Skin as well as the Race Pro Skin Jr, come with a race engineered side cuts and cambers, along with a shorter, more recessed skin for unmatched glide, but require high-impulse skiing for optimal performance satisfaction.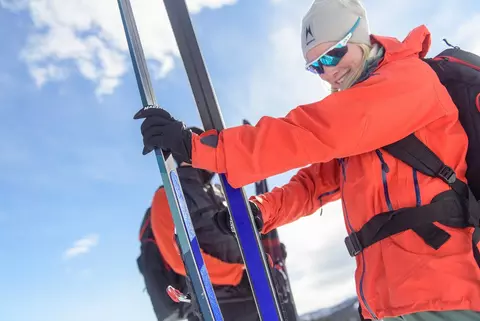 Active skin series
Totally accessible grip comes at the expense of pure speed. Our Active Pro series skin skis are designed to provide a natural striding experience for low-impulse skiers. A race-oriented side cut, but a longer skin and more forgiving camber provide exactly that. These are skis that just let you ski. You can stride naturally, you don't need to adjust everything, and there isn't a "trick" to making these work.
So, what's your skin?
The 2021-22 Madshus skin ski lineup consists of no less than eleven different skin ski models for groomed track skiing: eight adult models ranging from the flagship World Cup-level Redline 3.0 Skin to the laid-back Nordic Skin, and three junior models ranging from the Race Pro Skin Jr to the versatile Racelight Skin Jr.
Additionally, the Madshus skin ski lineup features two backcountry models: the "best-in-test"-rated Fjelltech M44 Skin and Fjelltech M50 Skin, both transitioning seamlessly in and out of groomed tracks.
Check out the full line up and find the perfect skin ski for your dreams, ambitions and winter adventures.
fdsknafkldlsaknlf dklsafnlk askldnf asdk nfasd