Sturla Holm Lægreid entered the senior elite level with a statement, snagging four gold medals at his very first IBU Biathlon World Championships in 2021.
This winter, he's back for more. But this time, Lægreid isn't chasing the medals.
"I have several World Championship gold medals, and I even took home a gold medal from the 2022 Olympics this winter. But I have never won the overall World Cup," the 25-year-old says.
Lægreid won no less than three small crystal globes last winter: the pursuit World Cup, the individual World Cup and the U25 overall World Cup. But he is still missing the big crystal globe.
"I've been second overall in the World Cup two years in a row now. So, winning the overall World Cup seems like the natural next step for my career now," Lægreid explains.
Story continues below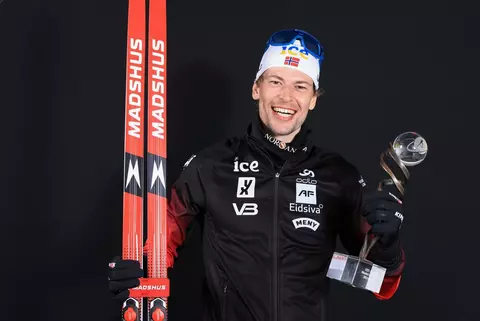 Starting from scratch
After an impressive start to his elite career in 2021, when Lægreid, then only 23 years old, won four World Championship gold medals and bagged a number of World Cup victories, expectations for last year's season were sky high.
But the 2022 Olympic season did not turn out as Lægreid had hoped.
He did indeed earn an Olympic gold medal as a part of the relay team at the 2022 Winter Games in Beijing in February, and delivered a few podium finishes prior to the Olympics. But it wasn't until after the Olympics that Lægreid was performing at his expected level.
In retrospect, he realizes that the pressure was hindering his performance.
"Having been to the World Championships before, I thought I was more in control. But the Olympics were something else, and subconsciously I was probably more stressed about it than I realized at the time. It was pretty obvious, because after the Olympics, my shooting fell into place again, and the last part of the season went very well," Lægreid says.
After the season, the analytical Norwegian took stock, identified his weaknesses and went to work. Over the dryland season, he has improved his diet, honed skiing technique and gotten a new stock on his rifle.
And now, a month before the national season opener at Sjusjøen on November 10 to 12, Lægreid feels better prepared than ever for this time of the year.
Story continues below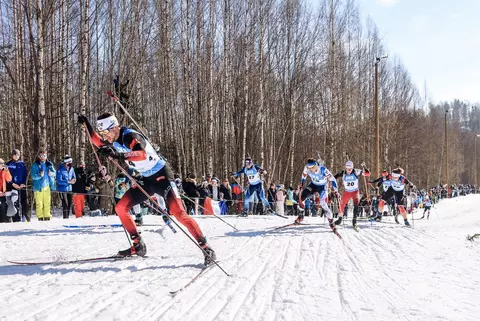 Carving his way to better performance at the range
The Olympics undoubtedly rested heavily on Lægreid's shoulders this winter. But at the end of the season, he still had a feeling that it was more than stress that caused him trouble at the range.
Therefore, Lægreid wanted to see if a new stock on his rifle would contribute to improve his performance at the range. In the early spring, he ordered a prototype made from spruce, which is a softer wood than walnut typically used in competition rifles.
"I got the spruce stock at the start of the dryland season, and throughout summer I have worked a lot on perfecting the stock, carving at the wood and adjusting the shape. Perfecting the stock has been one of my main projects this year," Lægreid says.
By August, when he had chipped, carved and shaped his way to a stock that he felt suits his anatomy, shooting style and individual preferences, he had the spruce stock made in walnut. And so far, he is really happy with how it turned out.
"The new stock suits me even better than the previous. I feel more relaxed and confident at the range, both prone and standing," Lægreid says.
Never been faster
The stock was only one of three major areas that Lægreid has focused on this dryland season.
Additionally, Lægreid has also adjusted and optimized his diet. The effects are obvious.
"The biggest thing is that I am better at eating regularly, and timing my meals according to my workouts. That was an area where I have been slacking," Lægreid explains, noting that he definitely feels better now.
"I feel more energized and powerful, and I have more punch and I can push harder, so I feel that I get more out of my workouts," he says.
Finally, in terms of training, Lægreid has worked hard to improve his skiing technique throughout the summer and fall. He is already seeing the results of that effort.
"I have never been fast on roller skis before, and I used to struggle to keep up with the other guys on the national team when we did intervals and hard workouts. But now, I can match even the best during interval sessions, and I also did well in the national summer biathlon championships. That's new to me," Lægreid says, and points to his first national roller skiing championship medal.
"Now I just have to make sure I carry my good technique over onto the snow."
Story continues below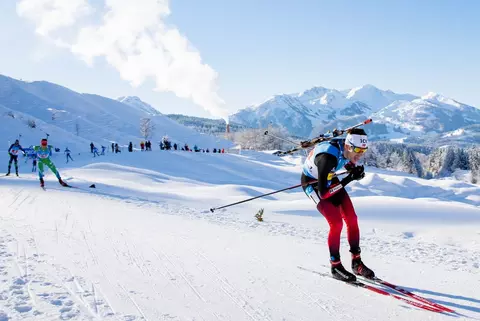 Ready to "make a statement"
Knowing that biathlon is a sport where the margins separate the winners from the rest, Sturla Holm Lægreid is diligent about his equipment and prepared for all kinds of conditions.
"I feel that I have built a very good quiver of skis. This summer I also tested some of the new Madshus Redline LTD skis with purple graphics and green bases, which are made for those super wet and tough conditions. They are really awesome, and I love that purple design. It's is a real statement, so I hope I get a pair or two of those for the season. With better technique and really flashy skis, things should go fast this the winter."