Madshus caught up with two of the world's best Norwegian racers on what it means to compete on skis that are made in Norway: cross-country skier Harald Østberg Amundsen, 24, and biathlete Sturla Holm Lægreid, 26.
Amundsen came home with a silver medal from the 2023 World Championships in Planica, Slovenia and then immediately after grabbed three podiums in four days in Latvia. With those results he won the overall Scandinavian Cup (COC), which earns him a spot on the World Cup team for the entire first period of the upcoming season.
Lægreid raced all six events at the 2023 IBU World Championships in Oberhof, Germany, where he bagged a gold and four other medals. He was also second in the overall World Cup standings at the end of the season.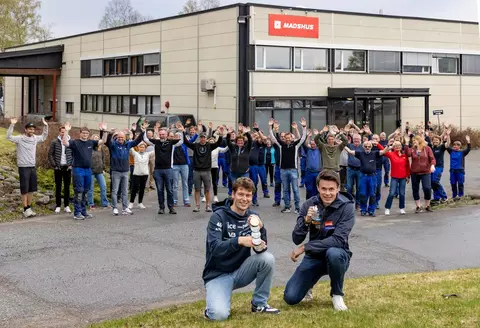 Both point out that skiing on Madshus skis add a dimension to their racing in several ways.
"I notice that a lot of people are affectionate about cross-country skis that are made in Norway. People notice that I ski on Norwegian skis, and they think it's cool. But I also meet a lot of Norwegians who think it's cool that several of the best foreign skiers choose to ski on Norwegian skis. That makes me proud." Amundsen says.
Lægreid agrees.
"It's awesome to represent Norway at the very top international level on skis that are both developed and made in Norway. It really feels like a big honor. It's special. I also notice that a lot of people point it out and tell me that they really love seeing me ski really fast on Norwegian skis. It proves that we really know how to build cutting-edge skis in Norway," he says.
The 26-year-old biathlete adds that he has raced on Madshus skis since 2019, the season prior to his big international breakthrough, and as a young skier until he was 17. Furthermore, the Team Madshus family experience is important to him.
"Madshus has truly embraced me, and the service they provide is amazing. I have a great relationship with the product developers. I enjoy being part of the various stages of the product development, and having the inside scoop on what's in the pipeline. Now that I live and train at Lillehammer, I literally have the factory in my backyard, which is super convenient."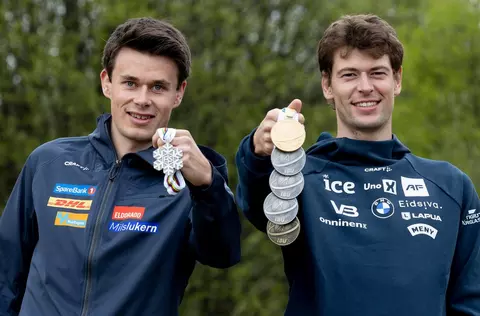 What makes Madshus different? "I feel that Madshus is innovative on skis. They specialize in cross-country skis, experiment a lot with different constructions and materials, and test a lot of skis throughout the season. I also believe that being so close to the snow and the area where a lot of the best athletes live gives Madshus a huge competitive advantage in innovation," says Amundsen, and continues:
"The same factors that give Madshus their huge competitive advantage, make them a great partner for me. If I ask for a ski with a different flex, they can often build it and deliver it within a week."
Additionally, Amundsen enjoys being directly involved in the product development process. "I find it exciting to try new products. As athletes, we can offer our input on what works. We can tell them which skis feel great and which are not so great. And I think the engineers value our honest opinions. That way, we all get better. It's literally a win-win situation."