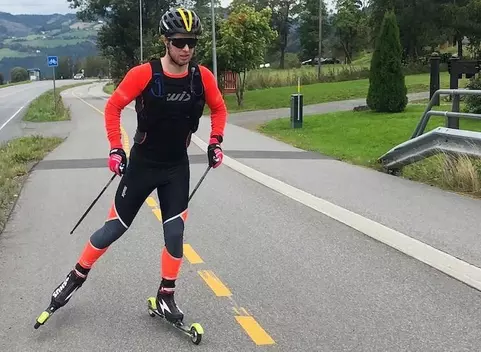 Summer is over, which means time to get into the meat of the more ski-specific fall dryland training. Those who have logged big hours of varied, general training over the summer generally don't have a problem getting back into a ski-specific program, but here are some tips from Petter Soleng Skinstad.
Skinstad, who has more than 15 years experience both as an elite skier at the national level and a marathon racer, serves up his best advice for a smooth transition.
"How you transition to the more ski-specific fall training depends on several factors, including work, family and social commitments. And keep in mind that the most important is to keep it simple and stay active. Any workout is better than no workout, but if you have specific goals, its smart to focus a bit of the areas you want to improve," Skinstad says.
If your main focus is cross-country skiing, this is Skinstad's top advice for your fall training.
Take advantage of the early fall
As a lot of skiers are wrapping up the running and cycling season, it's a good idea to ease into more roller skiing.
Skinstad suggests putting in one or two sessions per week, and take advantage of the weather and daylight at the start of the fall to get some volume on roller skis. He also recommends having a specific purpose for each workout in order to get the most from the time invested.
For those who spend a lot of the summer cycling and running, Skinstad recommends focusing on upper body strength as well as technique aspects such as timing and flow.
"Spending some time working on upper body strength is useful if you've been mainly cycling and running a lot so far this season. Also, make sure you pay attention to basic technique when you start roller skiing, such as weight transfer and timing, so that you don't pick up bad habits that you have to spend time on getting rid of once you get on snow," Skinstad says.
Simple, specific intensity workouts
As we are getting into the fall, Skinstad favors more ski-specific intensity workouts.
"Try to put in a few foot workouts with poles, such as skiwalking and moosehufing intervals. These are some of the most efficient and ski-specific intensity workouts in the book, and they are easy to do," he says.
Skinstad points out that there are a lot of ways to vary your intensity workouts, from formal intervals to speed surges using the natural terrain or a combination.
"Intervals of four to five minutes each are great, but you can also try breaking each of them into 45/15-intervals where you do 45 seconds of hard effort followed by 15 seconds easy, until the end of each interval."
His own favorite intensity workout is as follows:
"Five times 5-minute moosehuf intervals is my bread and butter intensity workout. You just cant go wrong with this setup and all you need is a steep hill," he says.
Don't forget strength
Roller ski workouts also doubles as solid strength work: skate roller skiing improves leg strength and balance, while double-poling is great upper-body strength training. However, you still need to maintain core strength and basic general strength. This can be done as separate stand-alone sessions or tagged on to your other workouts.
"In addition to roller skiing, I would focus on exercises that target your abs, back, arms and shoulders. Don't let this crowd your schedule, but a couple of 20-30 minute efforts per week makes a huge difference," Skinstad says.
Take a break from racing
For those who have done a lot of running or bicycle racing in the early dryland season, Skinstad suggests taking a break from competing.
"If you have a lot of racing under your belt coming into the fall, you will probably benefit from a competition break both physically and mentally. Don't dive right into a lot of hard interval workouts, but allow yourself to ease into the fall with a few weeks of lower-intensity volume. Traditional fall activities such as hiking and hunting make for a smooth, gradual transition into a new focus while building a solid endurance base," says Skinstad.
Skinstad explains that taking a break from racing helps shift into a new mindset and boosts motivation. Furthermore, most masters and marathon skiers don't really start racing again until January.
"There is no rush. Once your head and your body feel ready to pick up a more structured approach, you can start roller skiing, skiwalking and moosehufing. If your main goals are events such as Marcialonga, Vasaloppet or Birkebeinerrennet, you don't need to start the tough intensity workouts until October or even November and December."