The 90-kilometer classic marathon is the world's biggest, oldest and most prestigious ski race, with more than 15,000 participants every year. And Lars Berger has grand plans for his Vasaloppet debut: The 43-year-old former World Champion aims to finish in the top 100, on skis that he has designed and engineered himself.
There are few races where the properties of the skis are as important to the overall performance and results as in Vasaloppet.
In order to be competitive in the 90-kilometer race from Sälen to Mora in Sweden, you have to nail the flex, construction, grind and structure just perfect. Which is why Berger is building his own skis for his first attempt on the biggest ski race in the world.
Story continues below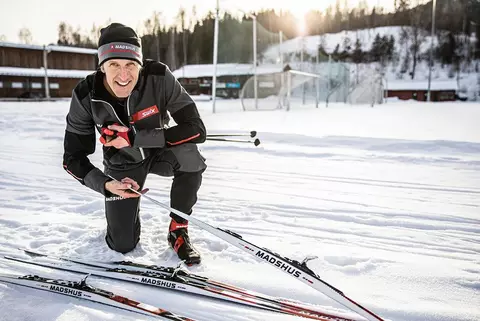 For the past 2.5 years, the former World Champion in both biathlon and cross-country has been working with product development and flex tuning at the Madshus ski factory in Biri, Norway.
Currently, Berger is working on an all-new generation of double-pole skis, engineered for specifically for long-distance racing. And now, he is testing the latest prototype on himself, on the ultimate test environment: Vasaloppet.
"At Madshus, we are super close to the entire development process. I can design and build a ski in the morning and then test it on snow the same afternoon. That's super important. While something might look really good on paper and in the factory, you don't know if it's working until you get on snow. But those test sessions are shorter. Vasaloppet is the ultimate test," Berger explains.
Berger has been working on the skis he will race on in Vasaloppet for over half a year.
"Skis are manufactured in molds. This summer, I discovered a mold that hadn't been used for a while, and never for double-pole skis. But I thought it might have some potential," Berger says, explaining that double-pole skis have some specific requirements.
"Double-pole skis have to glide fast on flat and rolling terrain. They have to be easy to ski uphill. And, because marathon races typically last several hours, they need to work equally well in a wide range of temperatures and snow conditions. It may sound simple enough, but it requires a lot of the construction."
Since starting the project, Berger has been through several prototypes, but now he has arrived on one that he wants to race on.
Story continues below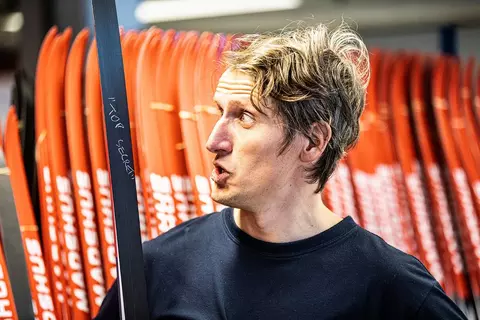 While skis are crucial to the end results in marathon races, and Vasaloppet in particular, fitness and training base is another determining factor.
You work hard on your skis, but how much are your training these days?
"I typically do five to six workouts per week, and I mostly do what I feel like when I train, and I've done a couple of races too. Racing is really useful, because I push myself harder when I compete than when I'm just training. Doing a few races, I've also had a chance to practice feeding during the race. But the longest I've done is 48 kilometers. Vasaloppet is twice as long."
That said, Berger is hoping to make use of the fact that he's done a lot of training over decades: initially during his national team racing career, but also after he retired from the World Cup level.
"At least, I've managed to avoid getting a gut," the 43-year-old says with a grin.
Will it be enough to finish among the top 100 in Vasaloppet?
"I hope so."
At the same time, Berger has ample respect for his elite competitors.
"The best marathon racers are super-fast. They average 30 kilometers an hour, and they keep it up for miles on end. Sure, it's a combination of perfect double-poling technique, general fitness, equipment and conditions, but still…" says Berger, adding that he has potential for improvement compared to the best.
"Usually, I skate a lot. But I have been double-poling more since the end of December, when my bosses at Madshus started bugging me about racing Vasaloppet as a final test. And when they are banking on a top 100 finish, I guess I have to aim for that."
Story continues below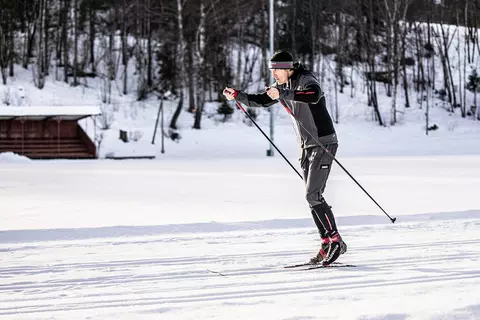 What are your expectations for your first attempt at Vasaloppet?
"I know it will be hard, the question is just HOW hard. I have never double-poled that far or that long before. It's a pretty monotonous movement. I am not super strong, my double-poling technique isn't the best, and whatever technique I have is self-taught," Berger says, adding "I am most curious about the last 30 kilometers, because I've never done more than 60 kilometers in a ski race before. And I wonder if I will run out of fuel. That's my biggest fear."
What happens inside the head of a former World Champion when you set a performance goal like this?
"I think I'm pretty relaxed. But then again, once I get a bib on, I want to get out there and fight for it."
Vasaloppet 2023 is on March 5. The distance is 90 kilometers, starting in Sälen and finishing in Mora, Sweden.