Only in his third season at the senior World Cup level, Ben Ogden (USA) recently posted one of the best results for an American male in a distance race. At the 2023 Tour de Ski stage race, the 22-year-old from Vermont was sixth in the 10-kilometer classic event in Oberstdorf (GER) and the top U23-skier. Additionally, Ogden has also been in the semifinal at the World Cup four times so far this season.
Madshus caught up with the talented American cross-country skier on his ambitions for the upcoming 2023 World Championships in Planica (SLO), the keys to his rapid success and his passions outside of skiing. Oh, and his mustache.
Before we even get into your skiing, racing, goals and passions: is there a story behind the mustache?
"Not really. But I had it at the 2021 World Championships in Oberstdorf, Germany. I was totally a rookie, and the older skiers in the team like Simi Hamilton and those guys thought the mustache was so funny. I don't think it looks good, but it goes with my personality. I'm kind of a goofy guy," Ogden says, adding that the mustache is here to stay.
"People kind of expect me to have a mustache now. And Klæbo has none, so I guess that's one thing I have that he doesn't. He always looks so polished. I can't compete with that."
Having parked the mustache issue, we moved on to business: Skiing, racing, goals and passions.
Story continues below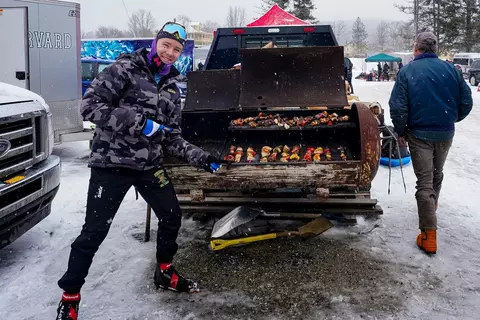 You've made some significant improvements this season. How have you done that?
"I think there are several reasons for that. One is just more time at the World Cup level. Another reason is that I've gained a better understanding of what I need to have good races and success. And I've also done some changes to my training over the summer and fall.When you improve in all these areas and see improvement in performance, you alsogain confidence. And confidence is huge in racing."
In regards to training,Ogden points outa fewspecific areas he has focused on coming into this season, which he believes are keys to his massive jump in performance: Fitnessandtechnique.
"You need to be extremely fit to succeed in sprint races. So, I've pushed my interval sessions quite a bit. Now I do 60 to 70 minutes of intensity more often than before, when I used to do 40 to 50 minutes. Increasing the intervals helps develop the ability to ski technically well with more fatigue," Ogden says.
Another big improvement is getting a better grip on his equipment.
"Last year, I had a lot of new skis but I didn't know enough about each pair. This season I have spent a lot of time testing and I get a lot of support from Madshus in that area. It's a huge benefit. Now I always have great skis every time," says Ogden, explaining that testing is both an art and a science.
Leading up to the current season, he's been hard at work at learning both the art and the science, understanding the technology and the specific properties of the different pairs.
"It used to be that testing skis before races was pretty intimidating to me. The wax technicians sent me out with like five pairs of skis, and expected me to come back to them with a lot of information. But I didn't really know what to look for. Now I do, and that makes a huge difference," Ogden says.
Story continues below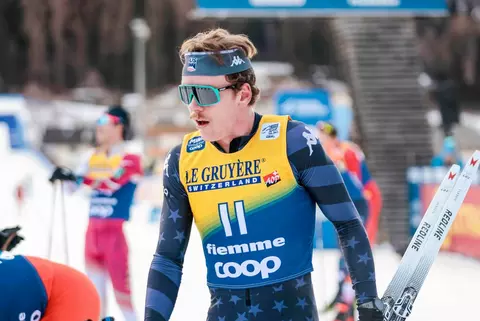 Arethere any areas you are working onright now?
"For sure. But mental toughnessis a huge one. The best skiers out there, those who are constantly winning and on the podium,aretruly unsatisfied if they don't win. That attitude makes a huge difference," says Ogden, and continues:
"For me, sometimes if I make it to a semifinal and I've skied as hard as I could, there is a little voice in the back of my head that's saying 'Hey, if you don't make it any further, you've still had a good day.' But at the World Cup, you can't allow yourself to be satisfied like that if you want to win."
On luck: Good luck and bad luck is not coincidence
While luck is certainly a factorin racing,Ogden believes that most times what looks like luck, really isn't.
"The guys who alwaysare onthe podium just don't seem to get caught up in crashes and pole breaks and mishaps. I don't think that's just luck. They have thisability tojust always claim the best position.And when you get the position you want, you are a lot less likely to get into break poles and crash.That's something you gain from experience. So every time I do a race, no matter how I finish, that's another experience,and something I can learn from," Ogden explains.
With all the improvements you've made, what are your expectations for the 2023 World Championships in Planica?
"I haven't set any specific goals, but I have my eyes on the classic sprint. I would like to get to the final. I've been close a few times before this season, so I want to put together everything I've learned and make my first classic sprint final. If I do well, I hope I get selected for the team sprint too."
Is there a chance you will make it to the podium in Planica?
"I've surprised myself before, but I think making it to the final is more realistic."
The 2023 World Championships in Planica (SLO) take place from February 21 to March 5.
Story continues below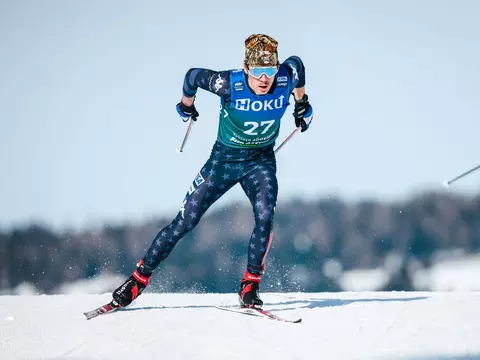 Racing to get a break from racing
That same positive attitude also helps Ogden stay motivated and fired up about racing on the World Cup circuit, week after week.It's also why he loves coming home periodically to get a break from it.
"Racing at homeand doing local eventsis just pure fun.It's where I get to see my friends again, catch up and do theIt charges me way more than it drains me, and I get back on the World Cup with lots of good energy," says Ogden.
Now in his last year of collegiate racing eligibility, Ogden hopes to come back to the United States in March to defend his national titles and help his school win the 2023 NCAA team title.
Story continues below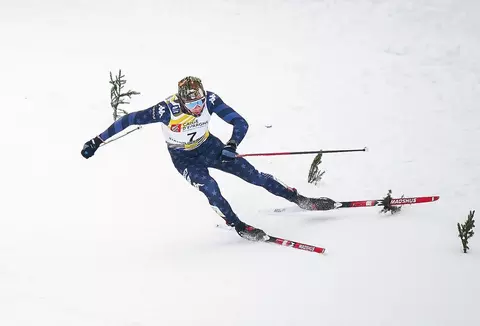 The BBQ-truck
Another reason why Ogden enjoyed coming home to race after the Tour de Ski, was the opportunity to show off one of his last projects: His barbeque-pickup truck.
"Last summer, my friends and I found this old wreck in that belonged to my dad. So, we pulled it out of the woods and got it on the road again. It was a lot of work and long nights in my dad's shop. When we were working on it, we also found this big propane tank, and decided we wanted to use it to turn the bed of the truck into a rolling barbeque," Ogden says, explaining that it was well worth the effort and labor.
"When I was home racing the regional NCAA races in January, a race series that we call the Carnivals, we brought out the truck and barbequed steaks, pork, spare ribs, burgers and shish kebabs at the events. And we got quite the turnout of spectators. It was awesome."
Do you have any other hobbies, besides skiing, racing and restoring old trucks?
"Oh yeah. Lots. But I really like welding. In the summer I like to make little skier figures out of scrap metal that's laying around. I really enjoy that."