Sturla Holm Lægreid (NOR) crushed his competitors in the IBU biathlon World Cup opener on Saturday and earned his first World Cup victory. On Sunday, turbo junior Helene Fossesholm (NOR) posted the second-fastest time of the day in the 10-kilometer pursuit at the FIS Nordic World Cup opener.
"It hasn't quite sunk in yet. I never imagined I would win," Lægreid said after his race, which took place in in Kontiolahti (FIN).
The 23-year-old dominated the 20-kilometer individual competition, shooting clean at the range and dropping his competitors on the course, winning the by nearly 20 seconds.
"First, the coaches said I was even with Tarjei (Bø) and Johannes (Thingnes Bø), and then I was in the lead. It was insane to get those," Lægreid said.
The IBU season opener was only his fifth World Cup competition. Last winter, Lægreid won the silver medal at the IBU European Championships in Minsk (BLR) on March 1. He was then named to the national team for the World Cup in Nove Mesto (CZE) on March 6 and 8, where he finished 13 and 15. The next week, he was 10 and 11 at the World Cup in Kontionlahti, which were the last World Cup events of the 2019-20 season. In April, Lægreid was named to the Norwegian A-Team.
Related coverage: 10 Madshus biathletes named to the Norwegian national teams
Story continues below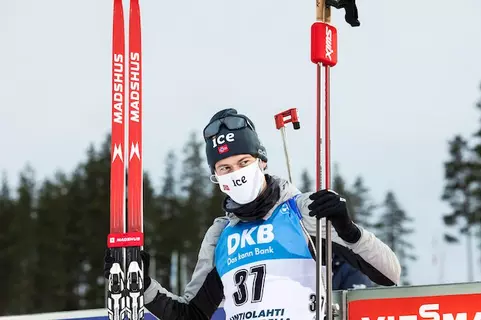 Meanwhile, just a few hours north of Kontiolahti, the FIS cross-country World Cup kicked off the 2020-21 season with a three-day mini tour in Ruka (FIN), where turbo junior Helene Marie Fossesholm capped the weekend with her very first top-three World Cup finish.
The 19-year-old posted the second fastest stage time in the 10km pursuit, just eight-tenths of a second shy of first place.
After placing 38th in the sprint on Friday, Fossesholm finished 9th in the 10-kilometer classic race on Saturday. Combined, the two first races left her in 15th place for the pursuit on Sunday, starting nearly a minute and half behind the leader. But pushing relentlessly through the brutal course, she worked her way up to sixth place overall.
"I'm super content with my effort today, and particularly with how I paced myself. I managed to hold back just a little out of the gate, which was key on this course. There is a hard hill in the first kilometer that will cost you if you are too eager at the start, but I skied smart and was able to stay strong the whole way," Fossesholm says after her race.
"But I have to admit I'm a little annoyed that I was less than a second from having the fastest time of the day," the ambitious junior adds.
Be warned.