Edvin Anger is only 20 years old, a first-year senior and a rookie on the Swedish national team. But he has already made headlines in the racing community, and was preselected for the 2023 FIS Nordic World Championships in Planica (SLO) after only two months of racing at the World Cup level.
"Getting that phone call from the national team was huge and emotional. I knew at the end of last winter that I was at a decent level, but to go straight from the juniors to the World Championship team is almost surreal," Anger says.
Now that he is headed to the World Championships, Anger has no plans to go there to spectate:
"I will fight for the gold from the get-go."
Story continues below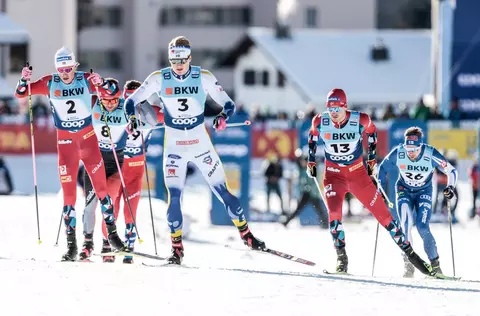 To be better than the rest, you can't do the same as the rest
Madshus caught up with the bold 20-year-old about his training and racing philosophy. It's as simple as they come:
"To be better than the rest, you can't do the same as the rest," says Anger.
For him, that means courage: Courage to do things your way, and courage to stick with what you believe in.
In short, it comes down to three things:
Be passionate about what you do
Do what you believe in and make a plan
Work hard at it every day
How did you get so good at such a young age?
"I truly believe that in order to perform, you have to love what you do, and feel good about what you do and how you do it. And I do. That's my fundamental philosophy about training and racing, and actually everything."
OK, so it sounds so simple. How do you put it into practice?
"I believe that you have to be serious, goal-oriented and ambitious, and you have to go after every workout session that way. I am very organized and focused when I'm training," says Anger, adding that this is why he moved back home after getting his high school diploma from the ski academy.
"For me, it's good to train alone to get that focus and be in the zone. I have my own roller ski track right at home, and I do a lot of time trials and standard workouts on that course. That way, I now have a solid collection of times and other training data, which allows me to compare and track my progress very accurately. That gives me a lot of confidence."
However, Anger points out that he also needs more than just training and racing in his life.
"I also believe in being either at work or off. When I'm training and at training camps, I focus on that 100 percent. When I meet with my coaches or call my coaches about training and racing, I am 100 percent on it. But afterwards, it's important to be able to switch off," he says, and continues:
"Hanging out with other athletes all the time every day of the year isn't right for me. That's also one of the reasons I moved back home after finishing high school and the ski academy. Here in Hedemora just south of Falun, I have my normal friends and my family right down the road. Falun is only a short drive, and I can always get on snow at our cabin if I need to for training."
Story continues below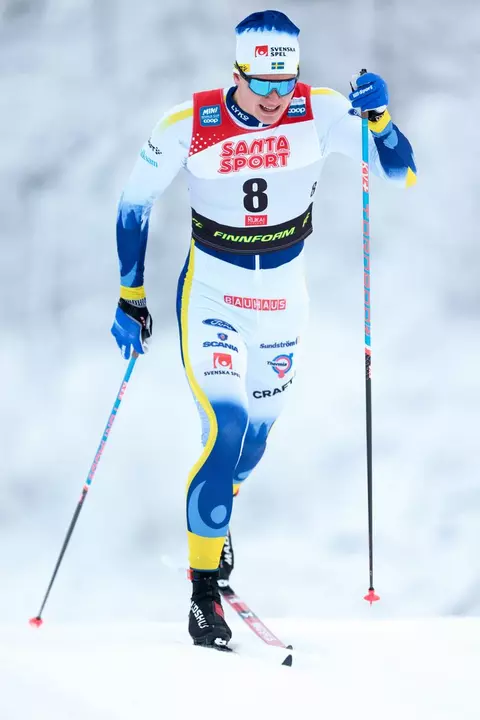 What is your competitive advantage?
"I have a big engine and a lot of strength, which means that I can ski efficiently at a high speed for a long time," says Anger, explaining that the combination of strength, speed and overall capacity is a huge benefit in races.
"Having that engine and speed opens up several options, depending on how the race develops. In sprints, I know that I am strong enough to be at the front from start to finish. But I can also choose to sit back in the beginning and preserve my energy, because I know that when the surge happens, I can defend my space and secure the position I want to have heading to the finish line."
However, Anger is also humble, and he knows there is plenty still to work at.
"I am experimenting with finding the right speed out of the gate, especially in distance races. I have to get better at nailing that. Now, I often lead the race for like five kilometers but then have to pull back a notch in order to finish in style. But I believe that's the best way to learn: Go as hard as you think you can, and the next time it might last six kilometers, then seven and so on. You have to push yourself hard to progress."
Story continues below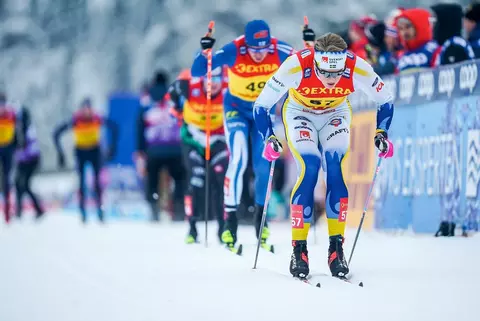 Who is your biggest inspiration?
"In skiing, it's Marcus Hellner. He's been the star for me since I was little. But in life, it's my grandpa. He is a farmer, and growing up next to him on the farm, I see how hard he works every day. And I see that when he works hard, he does well. He also told me really early that there are no shortcuts. Just hard work, and you have to do it right from the beginning. I apply that to everything I do. If I am training, I am training hard, and I do all the steps."
Will you be a farmer when you're done with ski racing?
"Who knows? But I love driving tractors, and I am always ready to help out with harvest and busy times."
So, will you take a medal at the World Championships?
"If I have great skis and the perfect day, everything can happen."
Fun Fact
Edvin Anger is literally a walk-on in the Swedish World Cup team. After winning the sprint and helping his team to gold in the 2022 National Championships, Anger was named to the Swedish development team for the 2022/23 season. But at the national season openers in November, he was named to the travel team for the World Cup opener in Finland two weeks later. And since then, Anger has been part of the World Cup team.